These are offered in small groups at my studio in a friendly atmosphere.
Course Contents:
This is a fun and informative course that gives the student an in-depth, hands-on instruction on several aspects of working with clay, whether on the wheel or hand-building. The environment is informal and personal. The course covers throwing, trimming, decorating and glazing. There is also space, equipment and instruction for hand-building.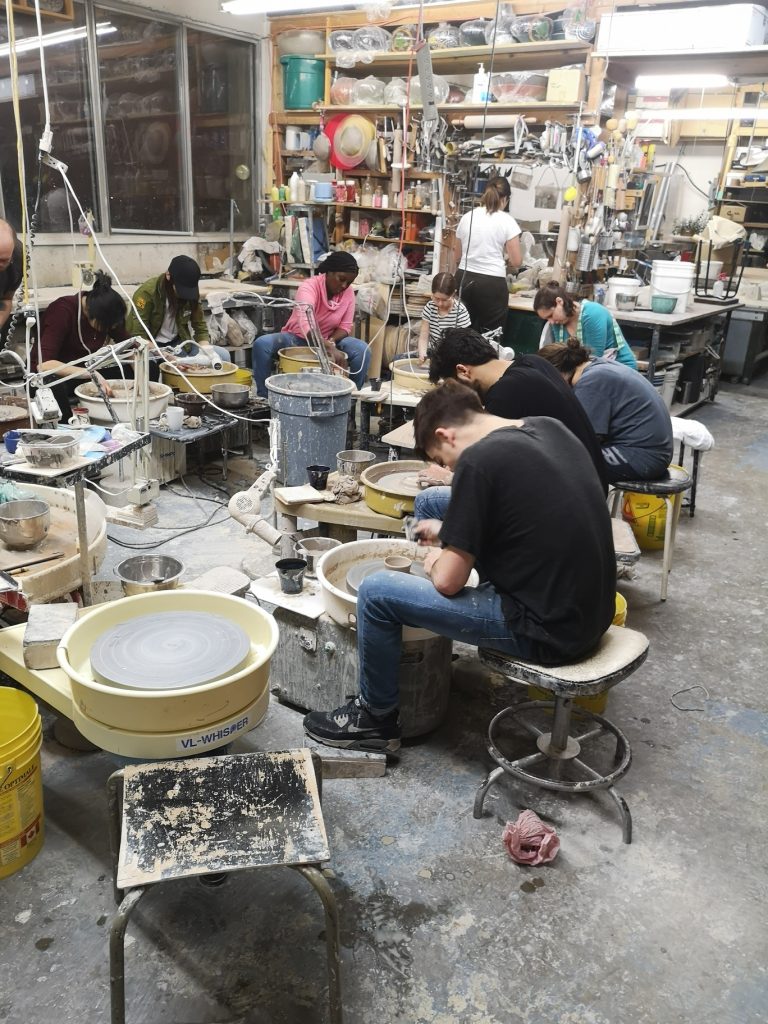 Summer 2023 registration is now open.
Schedule:
Classes are offered once a week and run for 8 weeks, 3 hours of class per week.
Summer 2023 classes begin the week of July 4th

Classes are offered at the following times:
Classes


Tuesday
1 – 4 p.m.
7 – 10 p.m.
Wednesday
1 – 4 p.m.
7 – 10 p.m.
Thursday
1 – 4 p.m.
7 – 10 p.m.
Location:
Classes are held in my studio at 5333 Avenue Casgrain, Suite 804, Montreal. This is between Mile End and Plateau Mont Royal and is a 5 minute walk from Metro Laurier. You can take buses 55 & 30 which run very close to the studio.
Cost:
– Tuition: $356 and $100 for materials, tools and firings. (plus 68.40 taxes)
– Registration Fee: A $100 registration fee is required when registering. It is included in the Tuition. It is non-refundable in case of withdrawal.
– Duration: 8 weeks, 3h / week 24h in total). By registering, the participant agrees to follow the 24-hour course and to disburse the amounts mentioned above. No refunds will be made after the start of the classes.
A 20 kg box of clay and glazes are provided. For your convenience, pottery tools are available for use in the studio. The materials that are supplied to the student are to be used during the class. It is not transferable to others.
All the materials (clay, glazes etc.) used in my studio are non toxic and food safe.
All the works produced by the students is theirs to keep.
What to bring:
You'll get clay on you, so wear something comfortable that you won't mind getting clay on. Clay washes out easily without stains. You will be responsible to bring a hand towel to dry your hands.
If you are taking a throwing class, we recommend you don't wear rings or bracelets, and that you have very short fingernails.
There is no need to bring tools, Everything required is provided in the studio.
Replace missing classes:
You can join the Facebook Group (Ceramic Studio Exchanges) and when you know in advance that you will be missing certain classes, you can post it on the Facebook page and exchange with students from other days.
To ensure your space you should arrange for payment by one of the options listed below:
1- Online Interac e-transfer to info@ceramicstudio.ca
For more information on this payment method and to check if your financial institution offers this service please follow this link:
http://www.interac.ca/en/interac-e-transfer-consumer.html
2- Cash at the studio
You can also e-mail me in advance to set an appointment at the studio to pay by cash. info@ceramicstudio.ca
5333 Avenue Casgrain
Suite 804
Montreal, Quebec
Canada H2T 1X3
---
Registration:
Summer 2023 registration is open.

For more info please contact me:
email: info@ceramicstudio.ca or (514) 284-6630